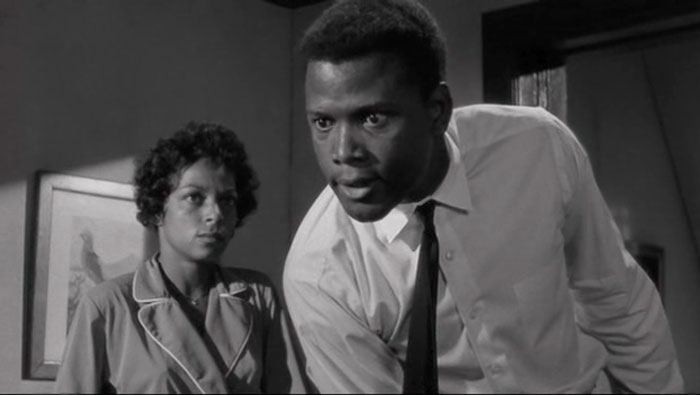 Directed by Daniel Petrie
35 mm black-and-white film
128 minutes
Columbia Pictures
Lorraine Hansberry's 1959 drama A Raisin in the Sun was the first play by a black woman produced on Broadway. It was also the first play by an African American woman to win a Pulitzer Prize. The title—taken from Langston Hughes's poem "A Dream Deferred"—suggests the festering passions and resentments unleashed in its dialogue.
In the film version, the story centers on a working-class black family: the father, Walter Lee Younger (Sidney Poitier), a struggling chauffeur; his wife (Ruby Dee), a maid; his mother (Claudia MacNeil), who is about to retire from her work as a maid; and his sister (Diana Sands), who is on her way to medical school. The family lives in a crowded, dilapidated one-bedroom apartment in a Chicago tenement, a typical situation at the time for poor urban blacks, who were forced to pay exorbitant rents for insufficient, poorly maintained housing.
The film opens with the family awaiting an insurance settlement after the death of Lee's father. The spirited discussion that follows, which drives the film, concerns the use of the money. Every character has an opinion, but inevitably the proposals conflict, and there won't be enough money to cover everything. Through hard-hitting dialogue, A Raisin in the Sun exposes the raw racial issues that simmer just under the surface of the characters' lives—poverty, the politics of de facto segregation, and the fact that living the American dream is all too often deferred because of racism.
Michele Wallace