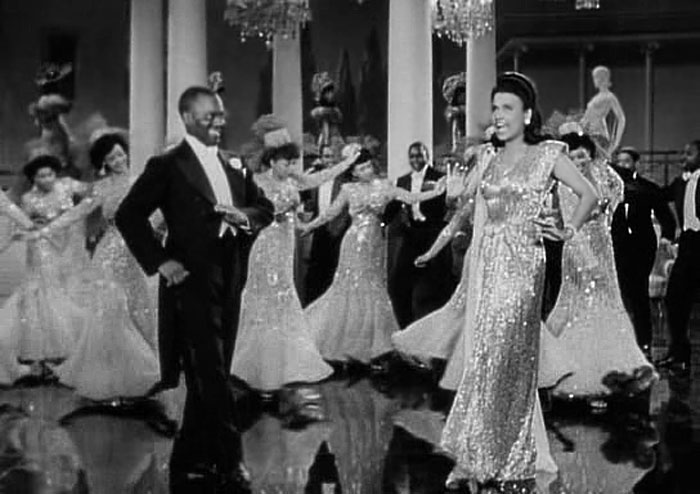 Directed by Andrew Stone
35 mm black-and-white film
78 minutes
Twentieth Century Fox
This all-black musical about the relationship between an aspiring dancer (Bill Robinson) and a popular singer (Lena Horne) serves as showcase for renowned African American entertainers of the mid-twentieth century. Although pleasurable to watch for its music, costumes, and extravagant dance numbers, Stormy Weather avoids the issues of segregation and prejudice that would have realistically touched the lives of its characters. In the face of a segregated military in World War II—and the fight for freedom abroad while liberty was still in short supply for blacks at home—the film begins with Robinson, portraying an American soldier, triumphantly marching down Manhattan's Fifth Avenue at the close of World War I. The scene ignores an abiding reality: black soldiers back from the war encountered unequivocal racism and segregation at all levels of society. Indeed, their return precipitated the bloody summer of 1919, when race riots erupted across the country; the positive reception of black soldiers in Europe was not repeated upon their arrival home.
Nevertheless, Stormy Weather—essentially a musical revue with the thinnest of plots—provided African American audiences with a national platform for extraordinary black entertainers. Its star, Lena Horne, is a vision of loveliness, modesty, and considerable talent. The film's array of dance routines is a mini-genealogy of tap. Aside from Robinson, it features the Nicholas Brothers, stars in Hollywood and at New York City's Cotton Club since the 1930s, as well as the wonderful music of Cab Calloway and his band.
This was the last of the great Depression-era Hollywood black musicals. The genre would reemerge in the 1950s in the form of more serious and socially charged movies such as Carmen Jones and Porgy and Bess, both starring Dorothy Dandridge—Hollywood's Lena Horne of the 1950s—as the romantic lead.
Michele Wallace