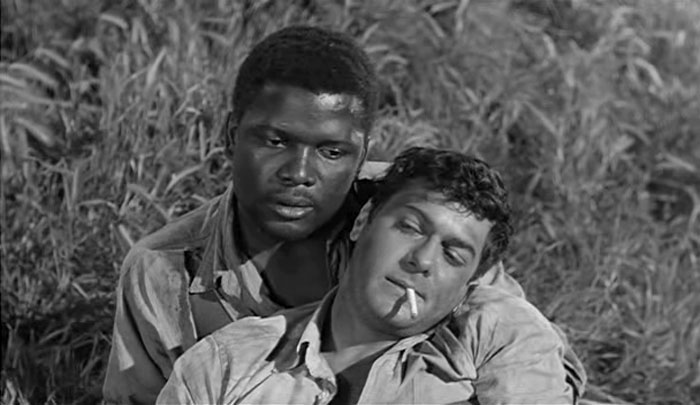 Directed by Stanley Kramer
35 mm black-and-white film
97 minutes
Curtleigh Productions
This blockbuster liberal "race film" was as noteworthy for its striking successes as for its lamentable limitations. Its costars, Sidney Poitier (Noah Cullen) and Tony Curtis (John "Joker" Jackson), both received Oscar nominations for performances as prisoners who escape after being chained together by a warden with "a sense of humor." Swapping slurs and tragicomically trying to fight each other while chained, the two are later caught and face lynching, but then are reprieved through the nighttime intervention of Big Sam (Lon Chaney, Jr.), himself an escaped chain-gang prisoner. Their bound-together plight—blacklisted radical writer Nedrick Young won an Academy Award he could not collect, having cowritten under a pseudonym—eventually produced solidarity and something like love. An early black-white "buddy film," The Defiant Ones also is regarded by some film historians as one of the first "crossover" successes, a work tailored to attracting both a black audience and a white one.
Even so, the film's problems, so exquisitely detailed in James Baldwin's book-length essay The Devil Finds Work, are equally impressive. Baldwin rightly remarks that Poitier's smoldering performance, while it gives the film "its only real distinction" also "paradoxically smashes it to pieces," because it so overshadows all else. Moreover, the "well-meaning" politics of the film leave freedom as a matter to be worked out among whites, with Cullen, as the only black character, not so much being forgiving as providing absolution in a highly contrived ending. Nor could the film explore what Baldwin called the "seismographic shudder" that its strongly homoerotic scenarios potentially generated, especially in closing scenes in which Joker chooses Noah over a white woman who has entered the picture. Nonetheless the jarring unevenness and lack of real resolution let The Defiant Ones say something powerful about an early moment in the civil rights movement and about Hollywood's ability and inability to capture it.
David Roediger