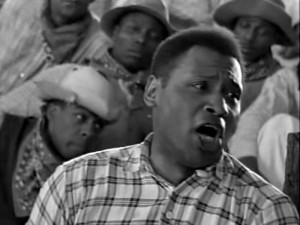 Directed by James Whale
35 mm black-and-white film
113 minutes
Universal Pictures
Based on the novel by Edna Ferber, Show Boat centers on a company of actors and singers on a Mississippi River showboat from its heyday in the 1880s through the beginning of the 1920s. The film consists of three loosely interconnected stories, the most controversial of which concerns the character of Julie LaVerne (Helen Morgan), who at the beginning of the film is the star of the company until a disgruntled lover reports her to the authorities for having black blood, thus violating anti-miscegenation laws by performing with a white cast. Her leading man, Steve Baker (Donald Cook), who is also her white husband, cuts her finger and drinks her blood as the sheriff arrives. With this action, the character and the film confront a central tenet of segregation: the husband becomes black by virtue of the "one drop" rule of racial identity in the state of Mississippi. The couple are banished from the ship, pariahs in the eyes of the law.
From the standpoint of American race relations, Show Boat, while fairly progressive for its time, is still problematic. The role of Julie, the mulatto, for example, was not given to the fair-skinned, strikingly beautiful Fredi Washington—already lauded for her work as the mulatto lead in the 1934 version of Imitation of Life—but to a white actress. And the most lavish production number of the film, performed by Magnolia Hawkes (Irene Dunne), the star who takes Julie's place, is performed in blackface. Yet if Show Boat is rife with Hollywood stereotypes, it also defies racial taboos. Director James Whale's insistence on casting African American actors throughout the film, for instance, made it difficult for southern distributors to excise their performances, a common practice at the time. The exemplary work of these entertainers—from Paul Robeson's exuberant rendition of "Ol' Man River" to Clarence Muse's small but dignified role as a janitor—hint at the coming of a new age in Hollywood.
Michele Wallace