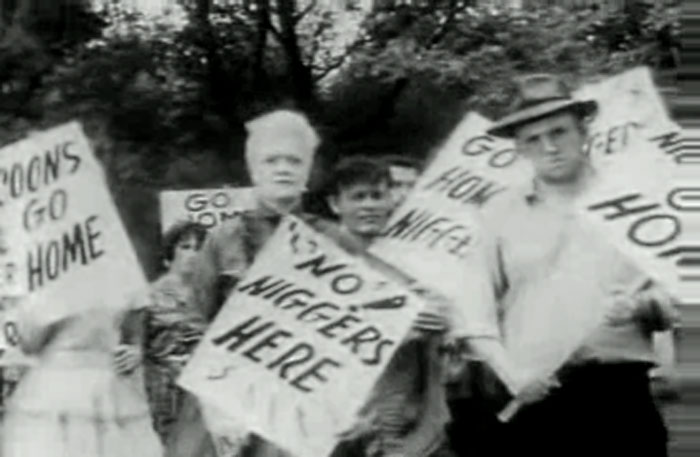 Directed by Roger Corman
35 mm black-and-white film
84 minutes
Roger Corman Productions
The Intruder was director Roger Corman's bold cinematic effort to dissect the massive resistance of organized racists to the integration of schools. It captures an important subplot of civil rights history, and illustrates the difficulties in making serious, biting, and commercially viable films that speak to what the freedom movement faced. Historically, opponents of civil rights traded on charges that Martin Luther King, Jr., and other peripatetic movement activists were "outside agitators," invading southern cities and manipulating residents. However, as The Intruder, and more recently the fine 2003 documentary Hoxie: The First Stand, show, racist forces committed first to "outside" agitation, importing organizers into areas and towns initially likely to accept court-ordered desegregation of schools, in order to ensure that integration would be met with bloodshed.
The film stars a young William Shatner as Adam Cramer, sent by the representative of the fictive Patrick Henry Society to stir up racial tension in a nameless southern state. Cramer shows viewers and townspeople first a seductive side, and then a rapacious one. The hesitant heroism of local newspaper editor Tom McDaniel (Frank Maxwell) results in a mob attack and a desperate attempt by McDaniel's daughter Ella (Beverly Lunsford) to save her father from further terror by fabricating a rape charge against a black student, which brings the town to the edge of a lynching.
Tense and brilliant, the film brought together the already popular B-movie genius Corman, the soon-to-be cult star Shatner, and the writing of Twilight Zone mainstay Charles Beaumont, but its subject matter so repelled investors that Corman had to borrow money to make it. Early critical acclaim could not make up for the refusal of the Motion Picture Association of America to grant the film a seal, and for unease among distributors. Corman remembered it as his only film not to make money; its reception was, he said, his career's "greatest disappointment." He and Shatner both wrote harrowingly of threats against them when they shot The Intruder in Missouri's Bootheel region. Nonetheless, reissued variously as I Hate Your Guts!, Shame, and The Stranger, the film has grown into a word-of-mouth classic.
David Roediger