In Our Lives We Are Whole: Snapshots of Everyday Life, 1935-1975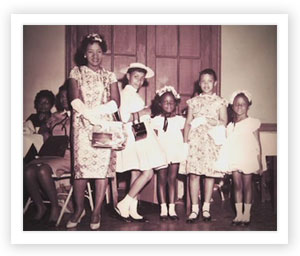 The most powerful and sustained vehicle for black self-representation and celebration did not require the cooperation of the media. Far from the stage sets of Hollywood and the advertising agencies of Madison Avenue, a simple, ever-present device was stoking a quiet visual revolution: the snapshot camera.
As the popularity of increasingly inexpensive and easily accessible cameras swept the nation in the early twentieth century, black Americans, like their white counterparts, relied on the snapshot to record and commemorate their lives and achievements. In the end, millions of African Americans took cameras into their hands and used them as the ultimate "weapon of choice" against racism. Snapshot by snapshot, these amateur photographers did for themselves what decades of mainstream representation could not: made visible the complexity of a people.
Image Credit/Caption (Click on thumbnail for full image)

Still from slideshow: In Our Lives We Are Whole: Snapshots of Everyday Life, 1935-1975. Slide show, Color and black-and-white. 4 min. 10 sec. Picture Researcher: Joanne Leonardt Cassullo. Consultant: Elizabeth Alexander. Produced by the Center for Art & Visual Culture, UMBC and the National Museum of African American History and Culture, Smithsonian Institution