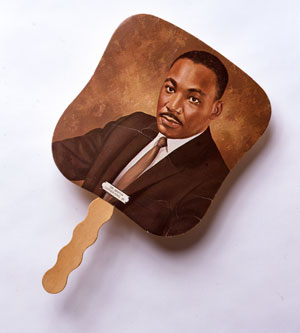 NEH on the Road is designed to create wider national access to the ideas, themes, and stories explored in major exhibitions funded by the National Endowment for the Humanities. First implemented in 2005, NEH on the Road offers smaller, object-based, low-security versions of these exhibitions, which circulate to small and mid-sized museums nationwide. Each exhibition includes a compelling mix of artifacts, text, graphics, photographs, clips from television and film, interactive components, and educational and other community programming. Under the supervision of CADVC project director and curator Maurice Berger, NEH on the Road has adapted For All the World to See for travel to an additional 45 geographically diverse national venues through 2023.
Book the Exhibition
Book the exhibition or learn more about NEH on the Road and its version of For All the World to See.
Book the exhibition here, on NEH on the Road website.
Credits
For All The World To See was organized by the Center for Art, Design and Visual Culture, University of Maryland, Baltimore County in partnership with the National Museum of African American History and Culture, Smithsonian Institution. NEH on the Road is an exhibition-touring program operated by the Mid-America Arts Alliance.
This exhibition was made possible by NEH on the Road, a special initiative of the National Endowment for the Humanities.  It was curated by Dr. Maurice Berger of the Center for Art, Design, and Visual Culture and was adapted, designed, and is being toured by Mid-America Arts Alliance.
Special thanks to SOFA Entertainment for their generous contribution of footage from The Ed Sullivan Show (1948-1971). The program was a civil rights trailblazer, granting unprecedented visibility to African-American performers who were often invisible in mainstream popular culture. By showing black and white performers interacting as equals, and by bringing these entertainers into the homes of millions of Americans on a weekly basis, The Ed Sullivan Show set an example of racial acceptance and integration, not just for the entertainment industry but for the nation at large.
Additional support for For All the World to See was provided by the CBS News Archives.
Image Credit
Fan, Evans Memorial Chapel, Saginaw, Michigan, c. 1968. Offset lithograph. Collection of Civil Rights Archive/CADVC-UMBC, Baltimore, MD, 2005.8